Nursery Manager
Michelle Briggs – Montessori Teacher/Level 3 in children's care,Learning and development.
Deputy Manager
Annabelle Peppiatt – Level 3 Early Years Educator  
Michalina Gruszka – PGCE in Early Years
Nursery Practitioners
Julie Shute – Level 3 Childcare and Development
We pride ourselves on our experienced staff who will be on hand to help at any time. All Staff have required DBS/CRB check certificates. Our training is ongoing and this is why the Nursery takes advantage of staff development days to be able to attend courses run by the K.C.C.P.L.A. and other relevant agencies.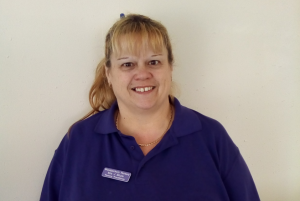 Hello everyone, I just wanted to introduce myself. My name is Mrs Shute and I have the pleasure of becoming purple group's key worker as well as working alongside all the children and staff at Woodpeckers Nursery, who have made me feel very welcome. I am very much looking forward to meeting all the children as well as Parents/Carers, and please do not hesitate to let me know how I can help. I have been a nursery practitioner for 22 years now and have gained an NVQ 3 in childcare as well as a lot of other experience that I can bring to the nursery in other areas. I am passionate about childcare and providing the best care and education to the children and with my caring and nurturing manner I know I am going to make sure each child reaches their full potential. I am married and have 2 grown up children and also a cat called Pepper.
Committee
The Committee is made up from parents and friends of the Nursery. They are collectively responsible for the Nursery. They are always grateful for offers of help for fundraising etc. They hold at least 3 meetings per year to discuss Nursery matters and accounts. The planning and day-to-day matters are the responsibility of the Nursery Manager.
The Committee is: –
Megan Shirley             (Chairperson-parent)
Michelle Briggs           (staff)
Michaela Watson         (parent)
Lyndsey Carruthers     (parent)
Annabelle Peppiatt       (staff)
We are currently looking for new committee members, no experience is needed and full training is given. Becoming a committee member is a great way to build skills and meet new people whilst helping to ensure that the nursery stays in a strong position.