TUESDAY 14th JULY 2020
Our new two year old room is almost ready for our under 3's. We can't wait to have all of our children back and to meet our new families in September.
Have a lovely Summer!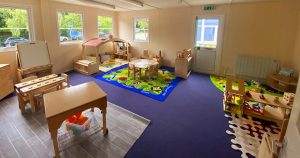 ---
MONDAY 1ST JUNE 2020- NURSERY CLOSURE UPDATE
Dear Parents/Carers
We hope all the family are well and enjoying the warm weather and sunshine. Thank you for your response to the letter which we sent out on Wednesday 20th May 2020, we have now had all the responses back from parents/carers and we fully respect and understand everyone's decisions they have made for their family. Unfortunately, we only had 2 responses that said they wished to return on the 1st June 2020, and as this is now the case the committee has come to a decision that with a heavy heart Woodpeckers will not be re-opening until September 2020. Due to the nursery being closed parents will not be billed for Term 6 and I am sure this will help all families.
All the staff at Woodpeckers are missing the children and it was nice to see some of your pictures that you have been posting on Tapestry and we look forward to seeing many more photos of what you are getting up too over the summer. If things do go according to government guidelines, we hope to arrange something before we return in September and see the children before those children who will be leaving to go to big school.
We hope you all have a lovely summer and we wish those who are going to school the best of luck and we look forward to seeing them in their school uniform if we can't arrange anything before, they are off to school. We also wish to thank all parents and carers for all your support over the strangest year we have had and we are so grateful as without you and your child/ren our days wouldn't be the same. Your children have been a pleasure to teach and it is shame we didn't get more time with them before going to school.
Those who will be returning to Woodpeckers in September we look forward to seeing you then, for an open morning on Wednesday 2nd September to re-introduce the children into nursery after such a long time off. The open morning will be from 9am until 10.30am and this will give the parents a chance to fill in paperwork and ask any questions and for the children to have a play and time with their key person so they see a familiar face and get use to being back in the nursery environment. The nursery will officially return on Thursday 3rd September 2020.
As you will know Woodpeckers Nursery is a charity run setting and relies heavily on donations and fundraising events throughout the year. Our main fundraising event is the Spring fayre, which is usually held in May. Due to the closure this year we have been unable to hold our fundraiser and this has led to a reduction in our income. The Committee also made the decision not to charge any parents fees whilst we were closed as we felt this was the right thing to do.
If you would like to make a donation towards the ongoing running of Woodpeckers please donate via a BACS transfer to the bank details found on your most recent invoice with the reference donation. Please do not feel pressured to make a donation, we simply wanted to provide parents who wanted to with a way to do so whilst we are closed.
Best Wishes and Many Thanks for all your support and good wishes
Woodpeckers Nursery Committee and Staff Team
---
FRIDAY 20TH MARCH 2020-THANK YOU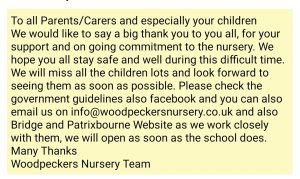 ---
THURSDAY 19TH MARCH 2020- NURSERY CLOSURE
Dear Parents,
As you are aware, we have been ordered to close to pupils from Friday 20th March and so as of 11.45am on Friday 20th March Woodpeckers Nursery will be closed. We would like to reiterate to parents that we currently have had no cases of Covid-19 in the nursery. During the week of 23rd March the staff will be on site to perform a thorough deep clean of the setting, providing government guidelines do not instigate a lock down.
During this difficult and unprecedented time, we ask that you keep following the advice issued by the government and do what is necessary to keep you and your family safe. Please also keep a check on your Tapestry account as we will use this to directly contact parents with any information or updates. We will also post updates on our nursery website and Facebook page and were possible will follow the same timetable for re-opening as Bridge and Patrixbourne School.
As a nursery we often use www.twinkl.com and Pinterest to source ideas to keep your children active at the setting, these may be useful sources for parents during the closure.
Should you need to contact the Nursery Management please do so via the email address info@woodpeckersnursery.co.uk or via the out of hours phone line 07415815176 between 9am and 3pm Mon-Friday. This number also has an answer phone to leave messages.
We hope that this closure will be as short as possible and look forward to welcoming you all back soon.
Woodpeckers Team and Committee
---
24th FEBRUARY 2020- WELCOME TO MISS HARRIS AND GOOD LUCK TO MRS GRUSZKA
As we start our new half term our team has changed a little bit. Mrs Gruszka has now gone on maternity leave to have her baby and we wish her the best of luck and can not wait for some baby cuddles! As Miss Gruszka is away we have Miss Harris joining us to be the key worker for the Blue group. Miss Harris has lots of years experience of working in a nursery and with key children and is qualified to level 2 in Childcare and Development, whilst currently working on her level 3.
---
7th FEBRUARY 2020- WELCOME TO MRS SHUTE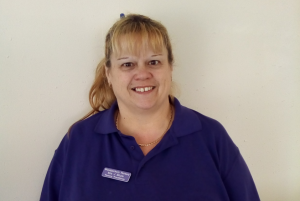 Hello everyone, I just wanted to introduce myself. My name is Mrs Shute and I have the pleasure of becoming purple group's key worker as well as working alongside all the children and staff at Woodpeckers Nursery, who have made me feel very welcome. I am very much looking forward to meeting all the children as well as Parents/Carers, and please do not hesitate to let me know how I can help. I have been a nursery practitioner for 22 years now and have gained an NVQ 3 in childcare as well as a lot of other experience that I can bring to the nursery in other areas. I am passionate about childcare and providing the best care and education to the children and with my caring and nurturing manner I know I am going to make sure each child reaches their full potential. I am married and have 2 grown up children and also a cat called Pepper.